Dekton at Cadira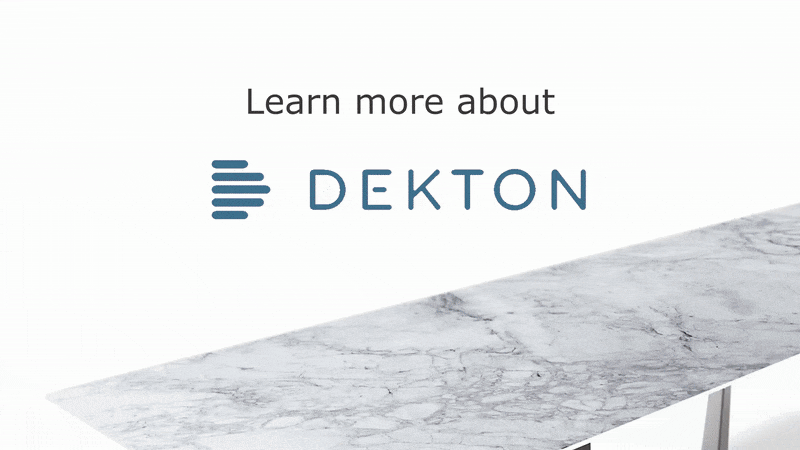 Dekton is Cosentino's innovative, ultra-compact, high-performance surface that offers endless design possibilities for outdoor and indoor spaces.
Features include:
High scratch resistance - Kitchen utensils and the rigours of everyday life will not scratch Dekton
Stain resistant - Easy to clean!
Fire and heat-resistant - Dekton can withstand high temperatures

Abrasion-resistant

High UV resistance

Non-porous - Reduced water absorption
We offer an extensive range of Dekton dining tables. They can be extendable or fixed, and many can also be ordered for outdoor use. We have a wide selection of popular Dekton colours, but any current Dekton colour can be used. Special sizes are possible, contact us for details.
| | | | | |
| --- | --- | --- | --- | --- |
| | | | | |
| ABRASION-RESISTANT | HEAT-RESISTANT | SCRATCH-RESISTANT | WATER & STAIN-RESISTANT | UV-RESISTANT |
| Dekton withstands abrasion better than granite and porcelain, making it ideal for all interior and exterior applications including dining tables, cabinets and coffee tables. | Its low coefficient of thermal expansion makes it ideal for projects exposed to sudden changes in temperature. The A1 certification accredits Dekton as a non-combustible material. | Dekton's great resistance to impact and scratches makes it perfect for everyday use. Its hardness equals quartz, scoring 7/10 on the Mohs scale of mineral hardness. | Dekton boasts very low porosity, making it extremely resistant to water and strains, which can be easily removed with standard cleaning products. | Dekton is unaffected by ultraviolet rays. Its colour does not fade or degrade over time, maintaining the same appearance as the first day it was installed in any interior or exterior application. |
WHAT IS DEKTON?
Dekton is a modern new man-made quartz using a mixture of natural materials. It is designed to be an ultra-compact surface for use in kitchens, table-tops, worktops and more. Due to Cosentino's state-of-the-art engineering, it is incredibly durable, versatile, easy to maintain and has a unique look and feel. In addition, because Dekton is non-porous and UV-resistant, it is perfect for outdoor use. We offer a wide variety of colours, textures and finishes, sure to suit almost any style in any contemporary home.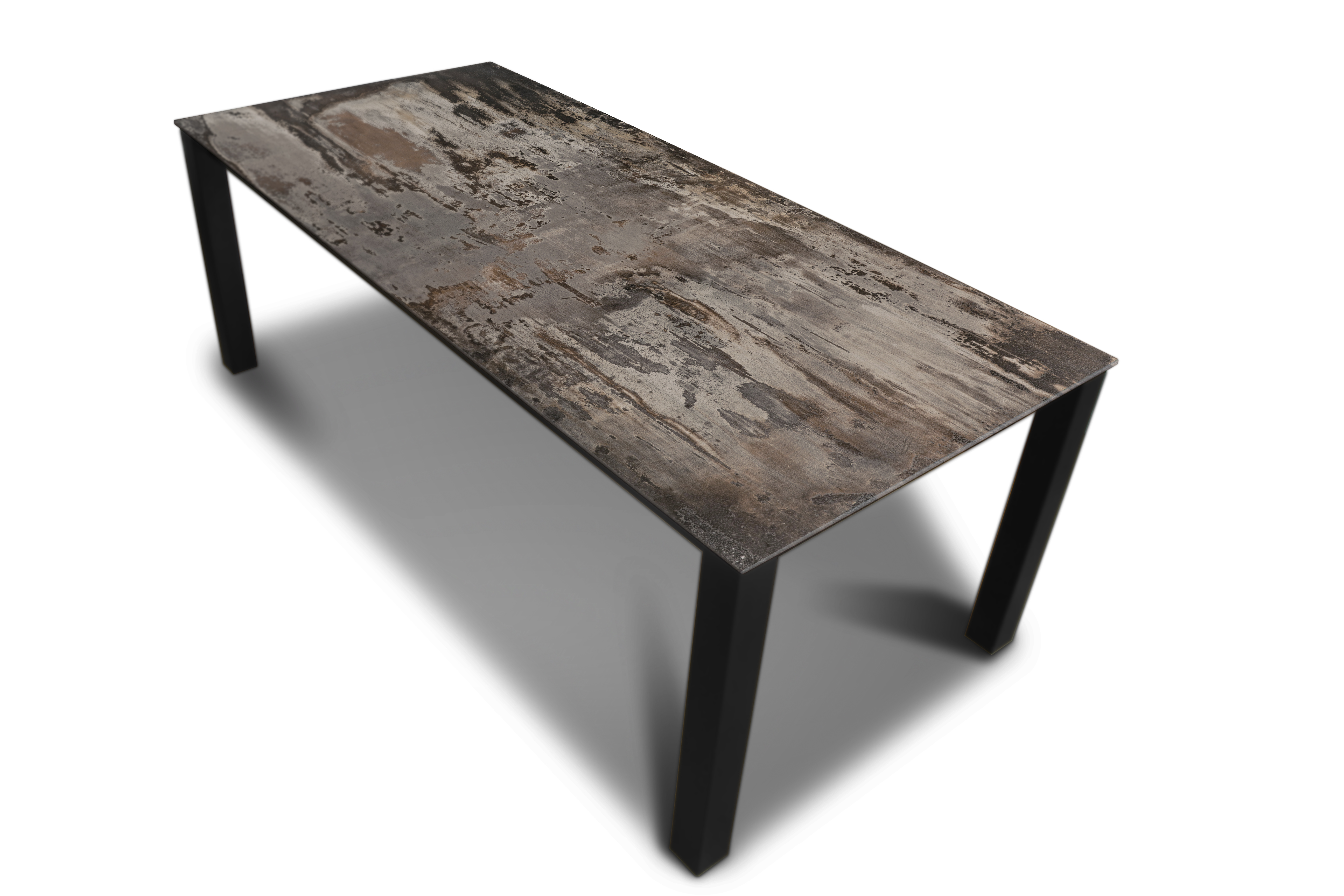 The Trillium top on the Sydney dining table design is a modern and sharp combination.
"Inspired by volcanic stones and intense gray and black touches. Created with up to 80% recycled material, Trilium was born in 2016 becoming the first ecological colour of Dekton."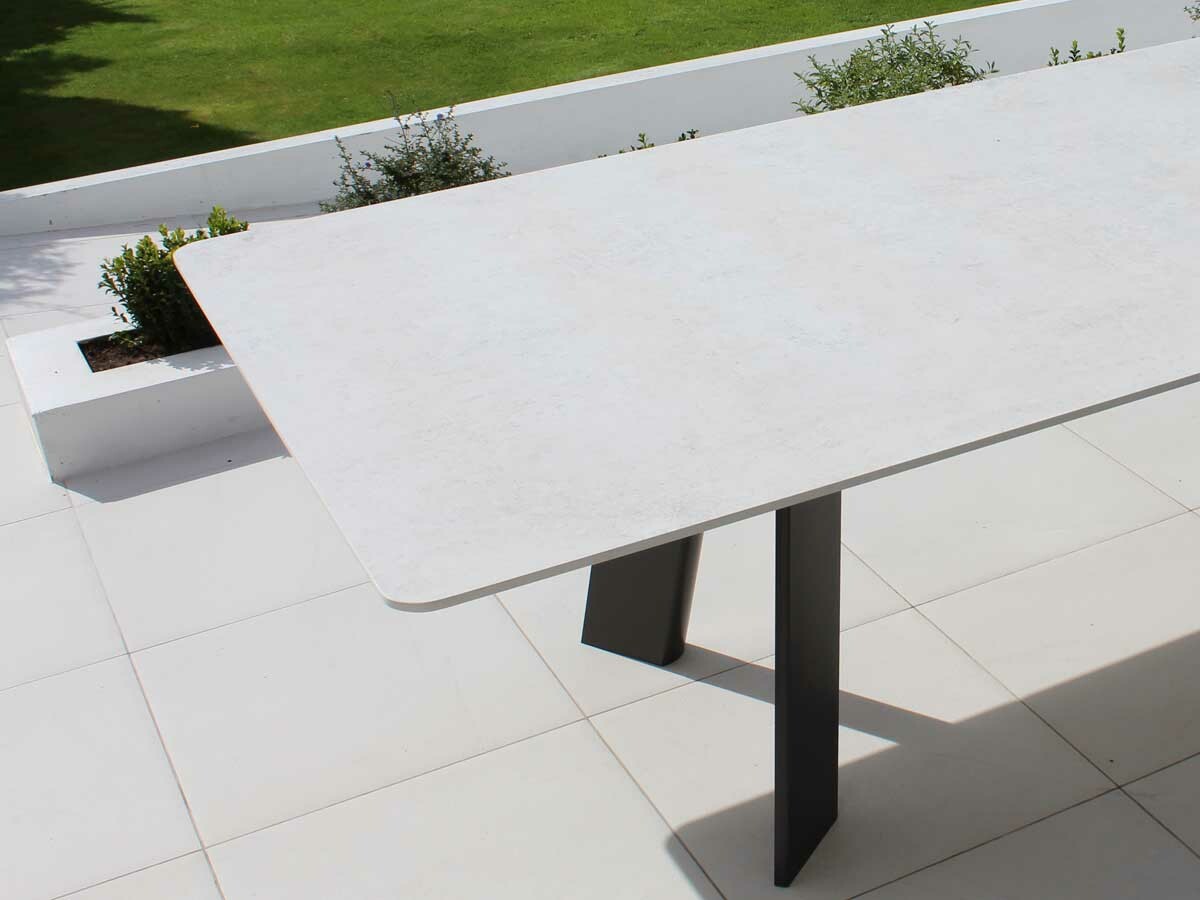 A striking light coloured table top perfect for any contemporary space.
"
A reinterpretation of conventional cement inspired by industrial aesthetics. Its subtle structure over a White base tone make Luna a trendy colour. The pattern and background merge perfectly."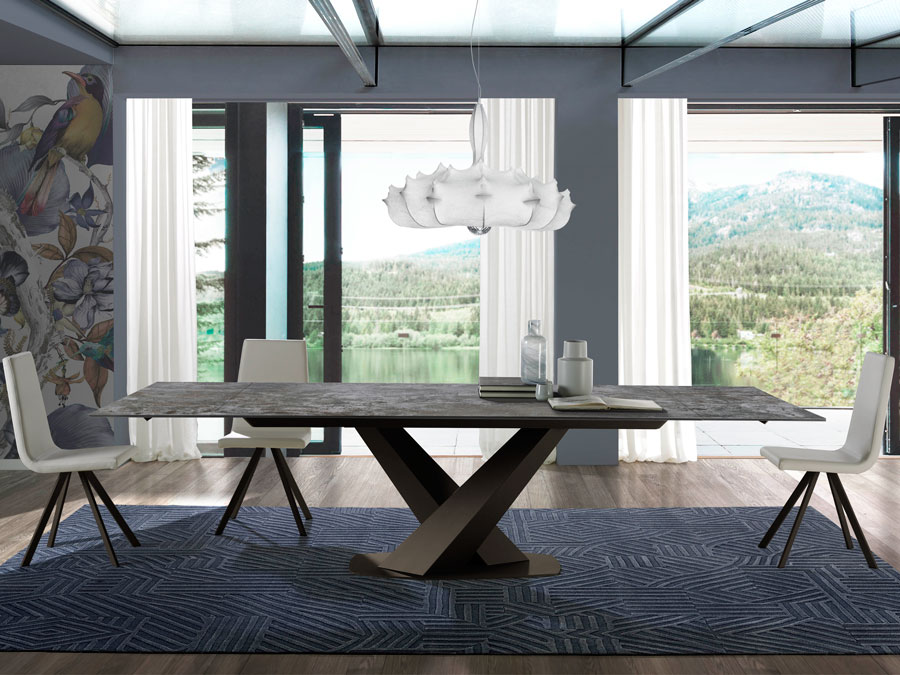 Shown here is the striking combination of our Victoria dining table and Dekton Orix top, suited perfectly to an industry-style modern space.
"Dekton Orix is a worn cement in which industrial aesthetics are characterized by being iron, cold and broken. Representing a dichotomy between the new and the worn, the colour combination is based on different shades of grey, blue and green."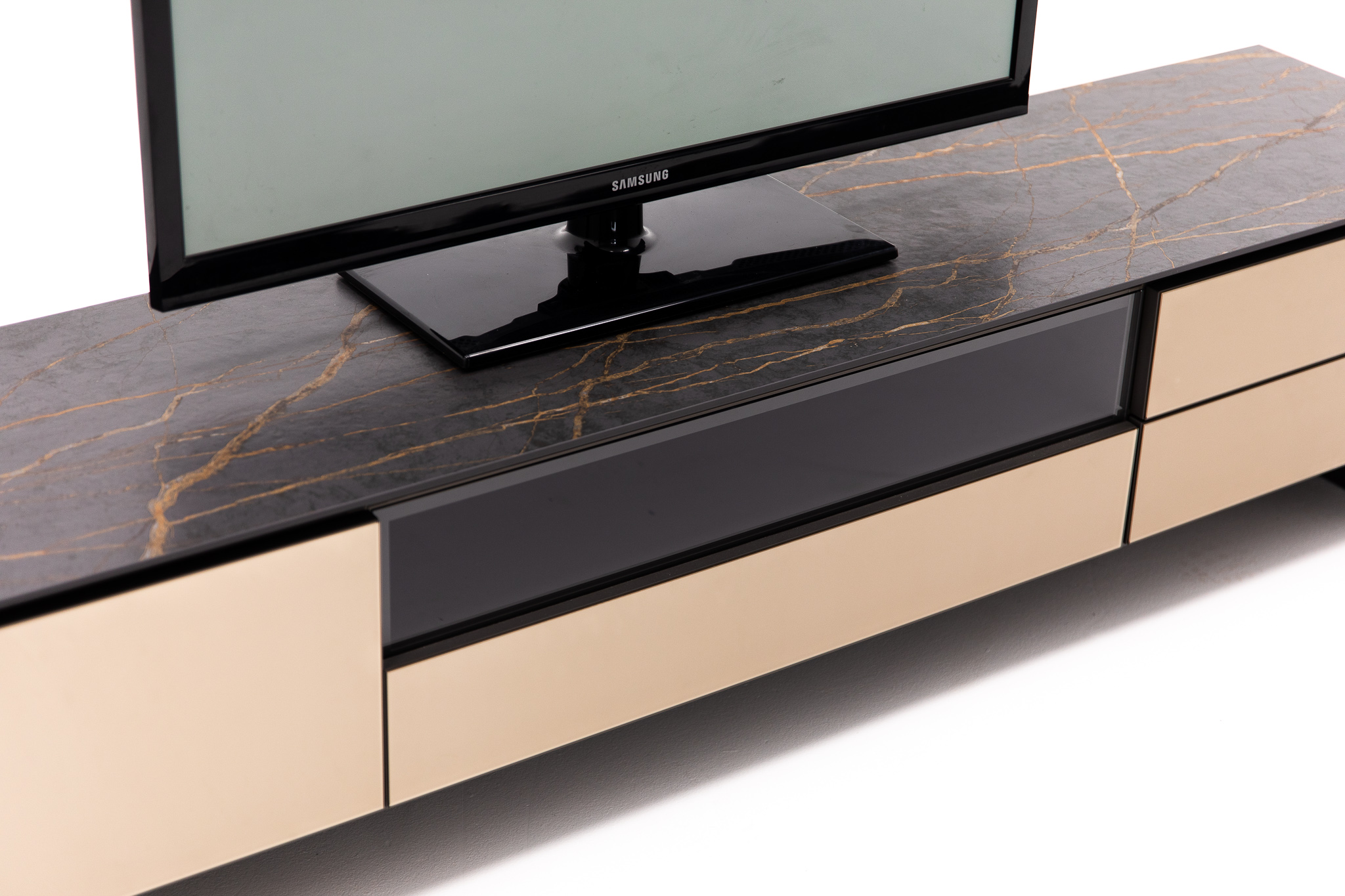 The practical and stunning combination of our TV stand with the top and sides in Dekton Orix top is suited perfectly to a modern design-led home.
"Inspired by the natural stone Port Laurent, the striking colourway features a dramatic dark brown background crisscrossed with veins of gold."